The LCWA network consists of one or more leased high speed internet connections that are propagated out to the members through a wireless network. As the membership increases, the bandwidth capacity and availability is increased to meet demand, with the operating cost shared among the members.
Our current overall network design goal is an average membership bandwidth of 10.0 Mbps upload and download. In 2015 and 2016, we are upgrading member radios to improve the performance of the network to a consistent download speed of 5 Mbps. Once, this consistency has been achieved, speed will be increased to the entire network.  Actual performance may vary depending on location, overall network utilization, time of day, adverse weather conditions and other circumstances.
Access Points
Our network infrastructure consists of several wireless access points placed around our coverage area which transfer data to and from to our land lines. Members connect through one of these access points. A member site consists of a wireless bridge that links a member's computers to the network via a router.
Here is the view of much of our coverage area in El Dorado and Cerrillos from the Vail Access Point (photo by Reiney Brown).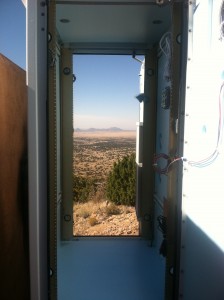 Our Coverage Area
We have a constantly expanding coverage area because, as we grow, we install new access points that members can use. The map below estimates the coverage area for the LCWA network. The map is generated from a computer line-of-sight simulation using the current access points in the network. This simulation serves only as an estimate—actual signal quality varies based on many factors such as surface structures, vegetation, local interference, equipment selection, and others.